Citizen science is a research approach in which everyone is invited to actively participate in scientific research. This promotes an inclusive, participatory, and engaged community in research. Additionally, with this approach you gain access to local knowledge, which is invaluable.
Constructing the Limes is involved in several citizen science projects. For example "Heel Heerlen Graaft!" and the registration of the PUG collection in the PAN database.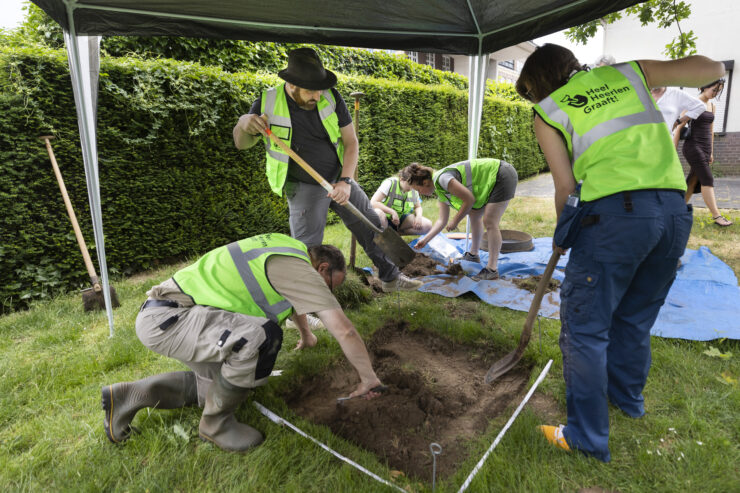 Heel Heerlen Graaft!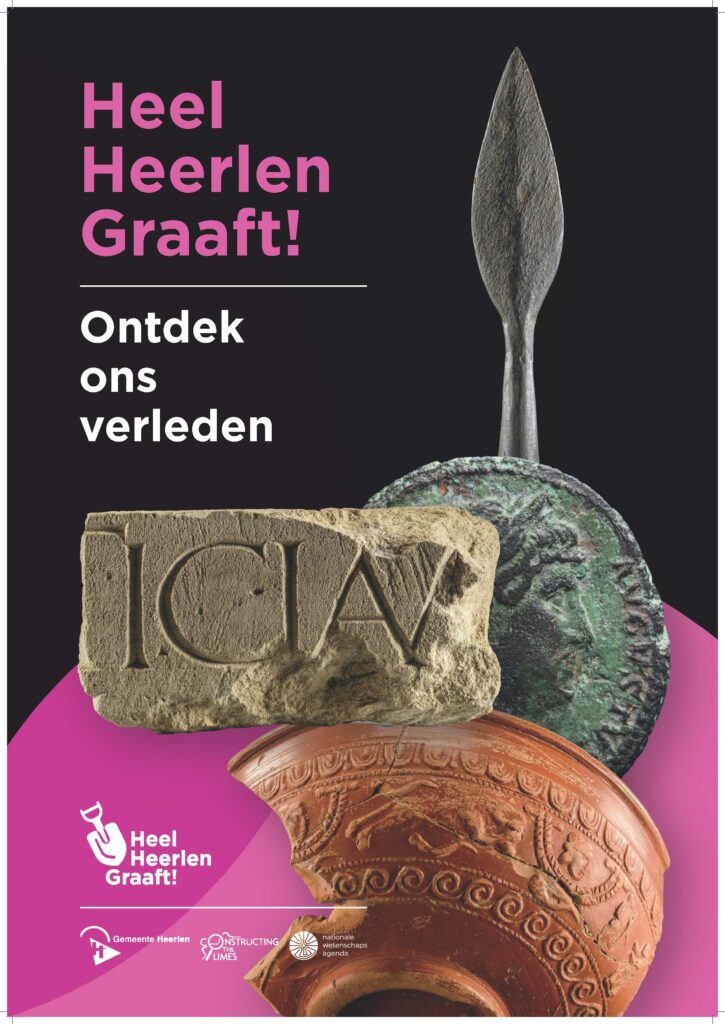 In the community archaeology project "Heel Heerlen Graaft!", the residents of Heerlen are exploring the Roman past of their city. During the Great Digging Days on September 9th and 10th, 2023, more than 150 volunteers will participate in mini-excavations (1m²) at 25 locations throughout the city, searching for Roman remains.
To better understand the significance of Heerlen (known as Coriovallum in Roman times) within the Roman Empire, Constructing the Limes is actively involved in "Heel Heerlen Graaft". The aim of this multi-year research is to gain deeper insights into the impact of the Roman frontier, also known as the Lower Germanic Limes, on the inhabitants of the border region. What role did the border play in migration during that time? How did the distribution of goods and new foods occur in this Roman border area? Through "Heel Heerlen Graaft", we hope to gradually approach the answers to these questions.
Furthermore, we are conducting research on ancient DNA traces in the organic material found in Roman soil layers, known as ancient sedimentary DNA research. Thanks to this new technique, we can learn more about the diet of the people of Heerlen during Roman times and potentially gain insights into their health.
"Heel Heerlen Graaft!" is a citizen science project organized in collaboration with the municipality of Heerlen under the umbrella of Constructing the Limes, funded by NWO and the municipality of Heerlen. It involves close cooperation between the municipality of Heerlen, Constructing the Limes, NWO, the Thermen Museum, Restaura and De Vondst, LGOG, Via Belgica, and numerous enthusiastic volunteers.
---
Registering the PUG Collection in PAN database
The Provincial Utrecht Society for Arts and Sciences (PUG) started collecting and managing 'antiquities' in 1841. This collection grew into an important and renowned collection of archaeological findings. The collection consists of about 12,000 objects from all periods from prehistory to the Late Middle Ages, with a focus on Roman finds, including those originating from the three Roman forts: Fort Fectio, Domsquare, and Castellum Hoge Woerd.
Now, as part of Constructing the Limes, this collection is being digitized in the PAN database (Portable Antiquities of the Netherlands). The goal of PAN is to document and publish archaeological findings online, making information about the finds and their discovery locations available for science, heritage research, museums, and all other interested parties.
On Wednesday and Friday afternoons (1:00 PM – 4:00 PM), volunteers at the ArcheoLab of Castellum Hoge Woerd are engaged in registering the PUG collection in PAN.