In the community archaeology project "The City of Heerlen Digs!", 150 volunteers, guided by archaeologists, embarked on a quest to uncover the Roman history of Heerlen. During the Grand Excavation Days on September 9 and 10, 2023, mini-excavations (1m²) were conducted at 25 locations across the city in search of Roman remains.
Scientific question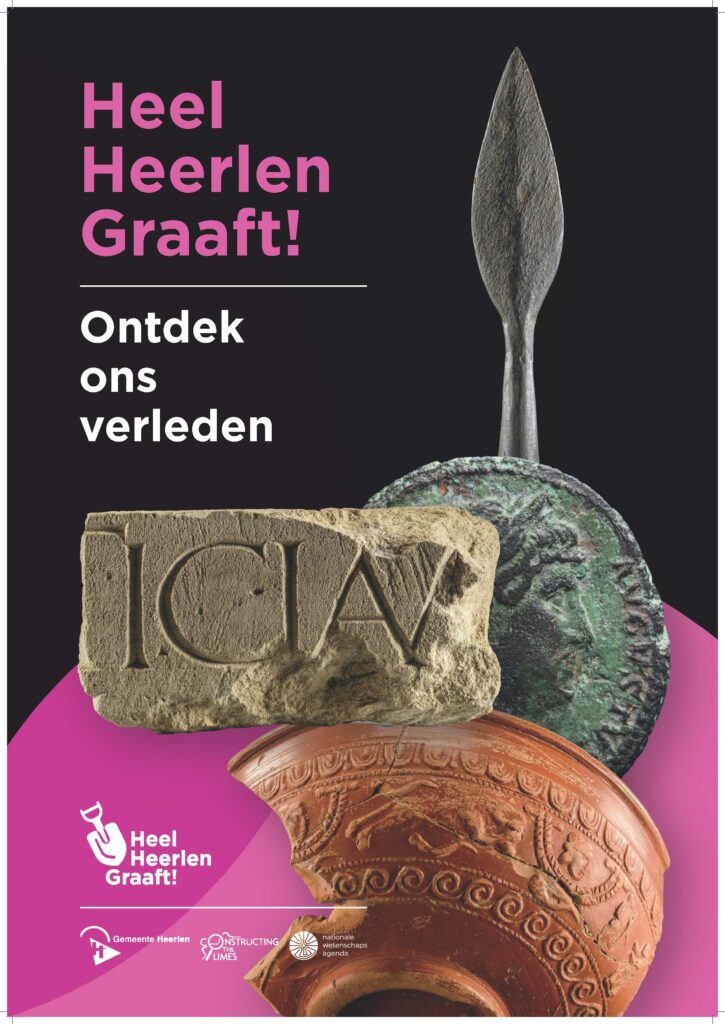 To gain a better understanding of the significance of Heerlen in the Roman Empire(known in Roman times as Coriovallum), Constructing the Limes is actively involved in "The City of Heerlen Digs." The objective of this multi-year research is to attain a deeper insight into the impact of the Roman imperial border, also known as the Lower Germanic Limes, on the inhabitants of the border region. What role did the border play in migration during that period? How did the distribution of goods and new foodstuffs occur in this Roman border region? Through "The City of Heerlen Digs," we hope to gradually come closer to answers to these questions.
Furthermore, research is being conducted on ancient DNA traces in the organic material found in the Roman soil layers, known as ancient sedimentary DNA analysis. Thanks to a new technique, we can learn more about the diet of the Heerlen residents during Roman times and possibly gain insights into their health.
Societal importance
For the first time in the Netherlands, archaeological research of this scale is being conducted in collaboration with participants within a city. This represents a unique opportunity to expand support for archaeology and actively engage and involve the residents of Heerlen in the history of their city.
Results
Currently, further research is being conducted on all findings. The results will be shared on this page and our social media channels, so keep an eye on them.
Collaboration
"The City of Heerlen Graaft" is a citizen science project organized in collaboration with the municipality of Heerlen under the umbrella of Constructing the Limes, and is funded by NWO and the municipality of Heerlen. It involves a close partnership between the municipality of Heerlen, Constructing the Limes, NWO, the Thermenmuseum, Restaura, De Vondst, LGOG, Via Belgica, and numerous enthusiastic volunteers.
Photo gallery September 9th/10th, 2023